COTI News: Passing of a friend
TAS News Feed
Traveller related news and information. Anyone may post new Traveller related news, but all new threads are moderated for approval before being displayed.
December 15th, 2015, 06:59 PM
To The COTI Community and his Family
---
I am really sorry for the loss to everyone here and his family. He was a longstanding member of the community here.
__________________
CT & CT+
IMTU: Sw+, ZHo+, Sol/TC+, As+/-, Imp +/- , Vr +,
Kr (BBQ), Hv ?, Da (Lol)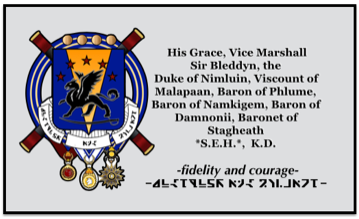 Saturday is always a rugby day!
Patent No.s: 3676,10360,11074,11310,12625, 12626, 12869, 12921
TAS No. 1310,2834
4518th LIR Challenge Coin #281
XO/A/6th/4518th
__________________
December 16th, 2015, 01:23 AM
Administrator

Join Date: May 2001

Location: Anchorage, AK, USofA

Posts: 28,496

Visit aramis's Blog
---
Quoted with permission:
Quote:
Originally Posted by Susan McKinney, Yesterday at 1:33pm
Donald McKinney passed away on Friday December 11th at 1:50 p.m. at Carle Foundation Hospital with his wife, son, family and friends by his side. Donald was born on March 5, 1967 in Seattle, WA. He was adopted by Bruce McKinney and Linda Short at birth. He graduated from Michigan City High School in May, 1985 and then attended DePauw University where he graduated with a major in Computer Science. At DePauw, he met his future wife, Susan Conger. They dated until May 1989 when they got married after Don completed his degree and Susan completed her Master's degree. They settled in Champaign county after the wedding, first in Champaign, then in St. Joseph. Donald enjoyed living in St. Joseph and being "the Librarian's husband".
He was Den Leader and Cubmaster in Pack 40; he was Committee Chairman and Asst. Scoutmaster for Troop 79 Boy Scouts of America. Donald had many interests that he and his wife enjoyed together. They attended and served at the Church of Christ in St. Joseph, where he had served as Sunday School Teacher, Sunday School Superintendent; Deacon in charge of Ushers and a Youth Group Sponsor. He was a member of St. Joseph Lodge #970 and Ogden Lodge #754 AF&AM. He was a member of the Valley of Danville, Scottish Rite; York Rite Independent Bodies. He was Royal Patron of Champaign-Urbana Court #17, Order of the Amaranth; Grand Associate Patron and a Past Grand Royal Patron of the Grand Court of Illinois, Order of the Amaranth. He was Worthy Patron and a Past Patron of Delmar D. Darrah Chapter #1021, Order of the Eastern Star. He was a Past Watchman of Shepherds, Hope Shrine #106.
Donald was an avid tabletop and computer gamer and was Chairman of the Winter War Gaming Convention for 22 years. In his spare time, he collaborated with Marc Miller on Traveller, a science fiction role-playing game and had written 1 book and was in the process of writing 2 other books. Donald is survived by his wife, Susan and his son, Michael, with whom he enjoyed political discussions; his parents, siblings; a niece and 2 nephews. Memorial contributions may be made to the Amaranth Diabetes Foundation and can be mailed to Amaranth diabetes foundation, c/o Pam Long, 3324 Buckner, Springfield, IL
I printed the thread to PDF, and sent it to Susan...
Susan asked me to convey her thanks for all the prayers and thoughts.
__________________
~ Aramis
aramis.hostman.us /trav
Smith & Wesson: The Original Point and Click interface!

Archduke of Sylea (CORE 2118)
Duke of the Third Imperium (SPIN 0534)
Count Terra (SOLO 1827)
Count Gorod (REFT 1302)
Count of the Third Imperium (SPIN 2232)
Viscount of Adabicci (SPIN 1824)
Marquis of the Solomani Rim (SOLO 0606)
Marquis of the Third Imperium (SPIN 2410)

Baron of the Third Imperium (SPIN 2231)
Knight of the Iridium Throne (CORE 1434)
Sir William Hostman (OLDE 0512)
Sir William Hostman (DAGU 0622)
Knight of Deneb (REFT 2239)
SEH w/Diamonds for Extreme Heroism - Battle of Boughene
MCG - Battle of Boughene
TAS: William Hostman (CORR 2506)
TAS: Bearer (DAIB 1326)
IMTU ct+ tm++ tne tg-- tt+ tmo+ t4- t20+ to ru+ ge+ 3i+ c+ jt au ls pi+ ta he+ st+
Wil Hostman 0602 C539857-9 S A724
OTU: 95% 3i an+ au+ br- cpu± dt± f+ fs++ ge± ih- inf± j± jf+ jm+ jt+ ls- n= nc+ pi+ pp-- tp+ tr+ tv- vi-- xb+-
Unless there is bold red text, presume my posts to be my personal material only.
---
Last edited by aramis; December 16th, 2015 at

02:24 AM

..
Posting Rules

You may not post new threads

You may not post replies

You may not post attachments

You may not edit your posts

---

HTML code is Off

---