So I started looking at classic Sci-fi art, the stuff my Dad and Grandpa may have picked up at the news stand or the five and dime.
I found a cover featuring what looks like John Carter and the Princess of Mars. ca. 1950.
Also this one that I think has Madonna in it: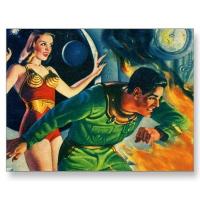 I posted this once in the Art Gallery.