In Moot Member Blogs
Hello? Anybody there?
#23
March 18th, 2011 12:34 AM
CotI seemed to be having some issues earlier and when I checked back in just recently here's what I found...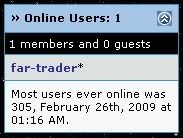 CotI is a lonely place...

...very rarely


The issues, whatever they were, seem to have been fixed or self corrected.
This website and its contents are copyright ©2010- Far Future Enterprises. All rights reserved. Traveller is a registered trademark of Far Future Enterprises .
Powered by vBulletin® Version 3.8.4
Copyright ©2000 - 2021, Jelsoft Enterprises Ltd.
Copyright (c) 2010-2013, Far Future Enterprises. All Rights Reserved.