In Moot Member Blogs
Finis
#30
November 27th, 2012 12:15 PM
My last words on this forum.

It's been a blast, mostly, since finding Traveller reborn over 10 years ago with Hunter Gordon setting up CotI and producing T20. I leave here with many more good memories than bad. And more than a few sad passings to remind me we are all mortal.

Again, I apologize to anyone that my leaving CotI will hurt. I hate that I feel like I have to. I don't even think I can safely just ignore my moderator duties and continue to visit or lurk as a simple member. That ju ...More
In Moot Member Blogs
Spam! Not just a luncheon... meat?
#29
May 3rd, 2012 03:49 AM
Following on my previous spam musings I had to share this fact I stumbled on today:

The first spam e-mail was sent on this date (May 3rd) in 1978. The first spam message was sent out by a marketing representative from Digital Equipment Corporation to every west coast address on the ARPANET, the predecessor to the Internet.

Thank you DEC for your forward thinking and leadership in making teh internets what they are today...




...oh, and an early StarWars day to those observing it in ...More
In Moot Member Blogs
You Have Imperial Mail !
#28
April 26th, 2012 02:57 PM
You know, I think I finally figured out why the mail contract requires a Gunner and armed ship. It's to defend the ship against attacks from all the hatred for the load of spam every planet knows is coming in on that load of FIVE TONS of mail. I bet it's 90% spam ! Maybe more ! Ships probably have to fight their way in from the 100D mark to the Starport before they are safe.


In Moot Member Blogs
Some other day...
#27
January 31st, 2012 11:37 AM
The Imperial Deputy Marshall sat behind his desk, like on many other mornings here at the starport. And as on some other days he pondered the choice of putting on this red badge he's holding recalling the times he'd threatened to take it off and walk away.

Opening the bottom drawer he takes out some fine Alurian Rum and pours a double. Toasting the picture of The Emperor on the wall he downs the shot, stands up and drops the red badge in the open drawer, pushing it closed with his boot. He w ...More
In Moot Member Blogs
That's the trouble with duty...
#26
May 2nd, 2011 04:52 AM
...it sucks you back in.

So the celebration of my departure (or not) was brief and premature. Guess I'll be around a little longer. It was a nice vacation, if short, and not really completely satisfactory but it'll do I suppose. I'm back.

<picks up the tin star from the desk where he left it, dusts it off thinking somebody might have cleaned while he was away, and strolls out onto the concourse to make the rounds...>
In Moot Member Blogs
Check your own sixes...
#25
April 19th, 2011 12:33 PM
...I'm out of here.

I know some of you have been hoping for this day, well celebrate, it may have come. Others (the majority from feedback I've had while wearing the badge) will not be so happy and your support has been appreciated through it all.

I am as of now, at least temporarily, no longer a moderator here. It still says so on my profile because it's not official yet, but I've tendered my resignation over issues.

Until it's official, or straightened out to my satisfaction, I'm don ...More
In Moot Member Blogs
Here goes...
#24
April 18th, 2011 04:51 PM
...something?

Time to upgrade this old Model/1bis a little. I'm pulling the plug in a minute to blow the stardust out (I do that at least once a year, that counts as annual maintenance right?), and mess with the hardware. I got a memory expansion kit cheap from this guy at the Starport last jump. It's stamped ISMM Model/7.3 Module 2 BC-9514. I did a search but only found partial info. It seems to be an older IN batch, that was discontinued around 1090, and the date of manufacture is 1074, so ...More
In Moot Member Blogs
Hello? Anybody there?
#23
March 18th, 2011 12:34 AM
CotI seemed to be having some issues earlier and when I checked back in just recently here's what I found...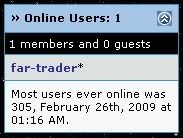 CotI is a lonely place...

...very rarely


The issues, whatever they were, seem to have been fixed or self corrected.
In Moot Member Blogs
...it's Thursday?
#22
December 9th, 2010 10:19 PM
...what happened to my Wednesday? I know I was supposed to get one with the week, every week is supposed to come with one I'm pretty sure. I guess on the bright side this means the weekend is closer


I'm beat.

Yeah, not much of a Travellogy post, but a) it's been a while since I posted anything here, and b) I suspect others can relate to worn out lost days


Ob Trav! Your solo DD Scout drops out of Jump Space a day early! Panics wondering what kind of misjump they've run through now ...More
In Moot Member Blogs
Transmission Source - Reach
#21
September 16th, 2010 12:57 AM
The fight is close now, I'll probably be in the thick of it tomorrow. I've moved everything down to the bunker in preparation. This might be my last commo for a while, maybe I'll see you on the front lines. Have any of you enlisted yet?

Which is to say, my copy of Halo Reach is close, should be here tomorrow. It's an XBOX thing for those of you who have been living in caves the last while
Then I'll be on Live running through the campaign, and maybe even some multiplayer


So between t ...More